In the heart of Brisbane, a once-in-a-lifetime real estate prospect teeters on the brink of vanishing forever. This remarkable opportunity offers dazzling high-rise panoramas, extravagant living, proximity to accomplished neighbours, a short walk to a bustling café and social scene, all within the epicentre of the upcoming 2032 Olympics.
What: Luxury units selling fast off the plan from $855,000 to $2,495,000.
Where: Brisbane, Queensland, Australia.
More details: By arrangement only (CLICK HERE) – Fill in the contact form to get in contact with a licensed property specialist.
Priced to sell rapidly off the blueprint, ranging from $855,000 to $2,495,000, this luxurious edifice comprises 144 lavish apartments, including two-bedroom, three-bedroom units, sub-penthouses, and penthouses.
Dwellers of this property will relish expansive views of the Brisbane CBD, Brisbane River, and the picturesque Mount Coot-tha. Additionally, residents will bask in the vicinity of vital entertainment hubs, such as Suncorp Stadium, The Barracks, Park Road, West End, and Petrie Terrace in Paddington.
Brisbane: The Ideal Location
Brisbane, the capital city of Queensland, stands as Australia's second-largest city by area and the third most populous city in the nation, boasting over 2.5 million inhabitants. Positioned along the eastern seaboard of Australia, it enjoys unparalleled proximity to Asia, setting it apart from other Australian capitals on the eastern seaboard.
Renowned for its enviable subtropical climate, diverse population, and vibrant urban precincts, Brisbane ranks among the fastest-growing cities in Australia, luring newcomers with its relative affordability and an enticing lifestyle proposition. As Australia's "new world city," Brisbane boasts a robust infrastructure foundation, encompassing a world-class international airport, a bustling international port, an extensive road and rail network, an integrated public transport system, lively entertainment and sports venues, and an exceptional range of accommodation options.
According to realestate.com.au, Brisbane is home to seven of the top ten most liveable suburbs in Australia. These rankings are based on accessibility to schools, parks, beaches, and the central business district via both private vehicles and public transportation.
2032 Olympics: A Game-Changer for Brisbane
The impending 2032 Olympics are anticipated to infuse an astounding $17.6 billion into the Australian economy, setting the stage for a transformative era in the city's history. With world-class facilities, impressive infrastructure, and the promise of unrivalled economic growth, Brisbane has swiftly become a global hotspot for investors and individuals seeking an exceptional blend of luxury living and unparalleled opportunities.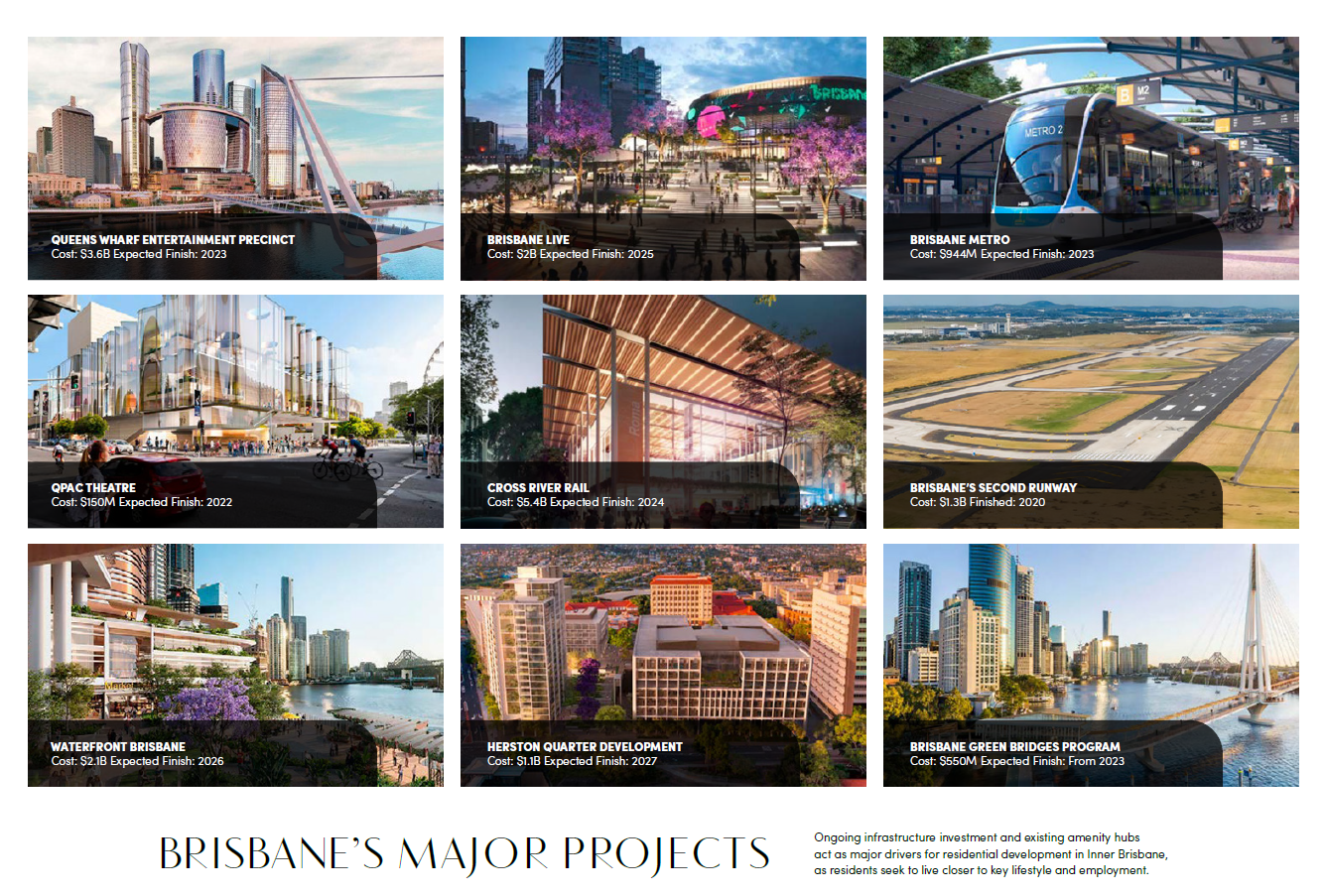 For those who wish to seize this vanishing real estate gem and become part of the future of Brisbane, the time to act is now. This unique real estate opportunity is selling out extraordinarily fast, and further details are available only through our exclusive inquiry form below. Don't miss your chance to be part of Brisbane's remarkable transformation – act today!