Hundreds of bikers converged on the Caboolture Showgrounds for the annual Red Ride event, to unite and ride against domestic violence.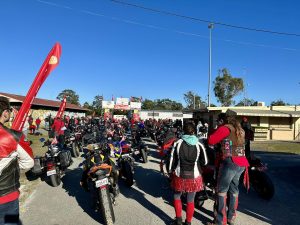 Red Ride is a fundraising event centred around a picturesque motorbike ride in Moreton Bay Region, aimed at generating awareness and financial aid for victims of domestic violence.
By participating in this event, bikers contribute to organisations dedicated to assisting and empowering those affected by domestic violence.
Beyond the fundraising aspect, this event serves as a platform to shed light on the pervasive issue of domestic violence and foster a society that embraces non-violence and respect for all.
The event held on Saturday, 20 May was supported by Rotary Caboolture, Queensland Police Service, other community groups and local businesses, and 4OUR – Moreton Bays Own Radio Station.
4OUR – Moreton Bays Own Radio Station often supports community events, while providing an important resource in times of emergency.
The founder of Red Ride, Tony Latter, Moreton Bay Regional Councillor for Division 12, thanked participants for attending the event.
"Thank you to everyone who attended today to help raise awareness and money to help stop domestic violence," Cr Latter wrote in a Facebook post. "This is an issue that effects our communities and families, and we need everyone to do their part to say NO to domestic violence."
The next Red Ride event has been announced to be held Saturday, 18 May 2024.